Selba
tagged me again, which is fine with me because I am just getting over these silly allergies, and becoming very, very bored, which is why I blogged three times yesterday. I have some job applications I am working on, and next week I start a week's booking at an insurance firm in the City.
The rules:
1. Add a direct link to your post below the name of the person who tagged you.Include the state and country you're in.
Nicole
(Sydney, Australia)
velverse
(Kuala Lumpur, Malaysia)
LB
(San Giovanni in Marignano, Italy)
Selba
(Jakarta, Indonesia)
Olivia
(London, England)
2. List out your top 5 favorite places to eat at your location.
3. Tag 5 other people (preferably from other countries/states)[..and let them know they've been tagged]
********
Because I have lived in the US as well and I have favourite restaurants there, I hope Selba will forgive me for listing one or two from over there. The places on the top of my list always send me home with a happy tummy and a warm sense of well-being.
I. Yauatcha - an ultra-trendy and very popular Eastern fusion restaurant and teahouse in Soho, has earned Michelin stars and is rated as one of the top 50 restaurants in the UK. This is where I get my designer dim sum with exotic cocktails or jasmine tea, followed by orchid tea (if available) and a neat little shanghai rose cake. There are literally hundreds of teas to choose from, but orchid is my favourite and typically not always in stock. The attention to detail here is perfect, and I have never been disappointed on any visit. Linen napkins, custom one-armed chairs, fresh flowers on each table, walls lined by aquaria, ceilings dotted with stars, well-timed dishes, helpful recommendations from the staff, and a very Zen slate and granite bathroom with Molton Brown toiletries.
Courtesy of Christianlindholm.com
Courtesy of Christianlindholm.com
**********
II.
Bhan Thai
- So good, even the Thai recommend it. Small, unimposing, but neat with friendly staff who already know my voice on the phone and remember my favourite orders. I try to introduce every visitor to this place, and sometimes treat myself to a free delivery for dinner. Thai food here is perfectly aromatic and served with enthusiasm and warmth. One time, their new delivery driver got lost, so they sent out a fresh hot batch of food and the manager drove him over!
I always order the glass noodle salad, which is a heavenly mix of lemon grass, coriander leaf, fish sauce, red onion, spicy pork (other restaurants may use seafood), peanuts, mushrooms, fresh tomato, chopped chile.
I also love their tender little spring rolls with sweet chili sauce, hot and sour soup, chili and hot basil pork.
**********
III.
Cumin
- a nouvelle cuisine Indian up the road from me where I also like to feed my friends. The staff here recognise me, and even my mother since every time she visits she begs me to go there. None of the food is heavy, it is fresh, fragrant, clean, simple, and a good balance of flavours.
Here I enjoy the tal tala jhinga (prawns battered in sesame and chili and lightly fried), and other starters, followed by the salmon tikka with their melt in the mouth garlic naan bread. Apple juice blended with a hint of lime is great for cleansing the palate throughout, and finally I like to finish with a cup of steaming fresh chai tea and a bowl of kala jaman (warm sweet dumplings in rose syrup with vanilla ice cream and a sprinkle of pistachio nuts).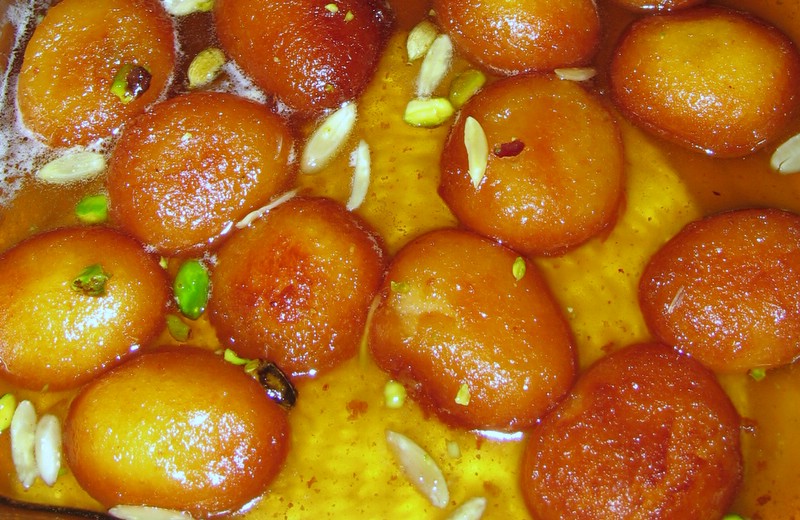 Also known as gulab jamun
**********
IV.
Los Cucos
- founded in Houston and now spread all over the state, you can sit in here and get full on just the free warm tortilla chips, with red chipotle salsa and green tomatillo coriander salsa - which they never stop refilling - and then just take all your dinner home to eat for the next two days! Specially as the menu is like 7 pages long. No special decor, just murals of Mexico and music to match. It's a real family venue.
Whatever you order comes with saffron rice and refried beans on the side, and is nearly always topped with guacamole, pico de gallo, and sour cream. It's hearty, homemade, honest food and always tastes great. I love their enchiladas, beef fajita flautas, shrimp poblano (sauteed in cream sauce with poblano peppers, onions cilantro, mushrooms and parmesan), stuffed deep fried avocadoes, and more. The best thing is you can order a mixed grilled platter which includes a bit of everything you like. When I was being lazy, I would order El Chaparro, which is 1 ground beef crispy taco, 1 cheese enchilada and 1 puff tostada with chile con queso.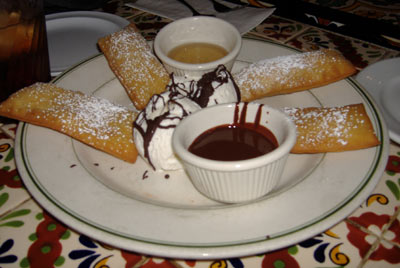 It was always nice to round it off with a sopapilla. It seems every culture has its own form of doughnut/pancake in syrup or honey.
**********
V.
Saltgrass Steakhouse
- although I don't eat steak, I was always stealing bites off my Dad's plate! It is most succulent and perfectly grilled Angus. I chose this over our usual seafood haunts because you can get seafood here, too. The walls are painted with ranching cowboy cattle trail murals and lots of rustic wood, yes you know you are in Texas here. When you sit down they bring you a neat little loaf of Shiner Bock Beer Bread on a board, with a ramekin of honey butter.
I would always order a delicious Caesar salad with homemade garlic croutons. Most American restaurants I used to visit would make a yummy Caesar. Then we might share a few starters, like Range Rattlers (jumbo jalapenos stuffed with whole shrimp, monterey jack cheese, battered and fried. For a main I might order a chicken fried steak with garlic mashed potato, or a platter of grilled jumbo shrimps, or a Texas Cheesesteak Sandwich (a twist on the Philly original using poblano peppers, jack cheese, and smoky chipotle sauce. (Any pepper when roasted becomes chipotle.)
When we ate out in the States we were usually too full for dessert, so we would go home, and an hour or two later have our usual post-dinner treat of tea and cookies. :)
**********
I now tag...(this is hard because everyone is busy or travelling right now...)
1.
Lunaliar
because she's creative with recipes and lives in Texas too
2.
Matt
because he claims to be a good cook despite being Welsh
3.
Panda-Eyed
because she has family in Hong Kong and also experiments in the kitchen
4.
Beenzzz
and
5.
ML
because they are Guyanese, live in America, and I wonder what they like to eat.
P.S. Oops,
Pete
and
Katja
, I tagged you on P27 by mistake!