This follows on from the
Hot List
I posted last week.
As you will see, my taste in females is more eclectic, though it seems I'm consistent with the almond-shaped eyes. There would have been more, only I can't remember enough to find them.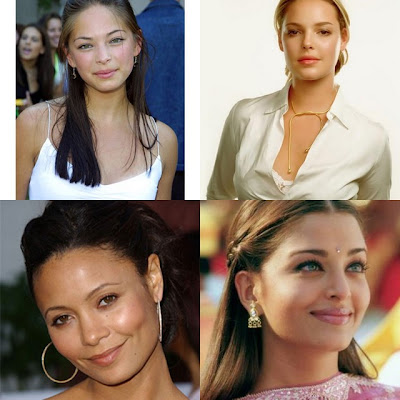 Clockwise from top left: Kristin Kreuk, Katherine Heigl, Aishwarya Rai, Thandie Newton
Kristin Kreuk
hails from Vancouver, BC. She is half Dutch, half Chinese and Jamaican. She is ever so cute in
Smallville
. I wish her character had fallen in love with with Clark instead of Lex. Despite not watching the show, two cast members have made it to my list. (See
Hot List
for Tom Welling.)
Katherine Heigl
is German and Irish from Washington, DC. Not usually the look I go for, but she usually comes across as a transplant from the 1940s silver screen. Unfortunately it was difficult saving
those
pics. And she does a great job being Izzy in
Grey's Anatomy
.
Aishwarya Rai
, the Bollywood princess from Mumbai. Her eyes are legendary; it's too bad I hear she's not a very nice person. I would have liked to stick to principles and leave her out for that reason, but then you wouldn't have had a list of four.
Thandie Newton
is a Londoner with a Zimbabwean mother and English father, and has been on my list since I saw her in
MI:2
. She is such a chameleon that she looks different in every photo. Her style is impeccable and she is a real doll, perfect for dressup. So obviously, I love all her outfits!
Sorry I couldn't put up more images but it was almost past my bedtime when I started this post!
Memo - *awaiting the verdict*
Matt - adding any to your list?
This is not the end of my lists. Coming soon are the oldie classic guys and gals for Planethalder.