Internet is currently down at the house and unfixable. Wi fi from next door is intermittent and weak. So I am relying on my good old phone as modem again. Yay Orange. I just really wanted to blog! Let me know if you prefer the larger text...

**********
I read this book a couple of weeks ago:
It is powerfully and tightly written, impossible to put down, and haunting once you've finished. The detailed descriptions of dog fights between MiGs and Sabres in the skies above Korea are totally thrilling. More than that, though,

Ascent

is about the men who dedicated their lives to the Soviet space programme, never destined to become heroes like Yuri Gagarin. The ultimate sacrifice necessitated total anonymity, expurgation from the files, even. But no one can erase a man from his comrades' minds, can they?

Mostly, it is about flying ace Yefgenii Yeremin and his devastating struggle to break the bonds of earth to fly amongst the stars. He would walk on the Dark Side of the moon, but no one would ever know, not even his colleagues....

You
have
to read it to find out why.

**********

I rarely remember my dreams anymore, but last night I finally captured one. I was part of a large team of astronauts gathered in a large facility. Some of us were coming, some of us were going. We were on non-stop relay missions in one-man capsules, to do what I do not know. I had just returned, put on my pyjamas and was off to join the others (also in PJs) in a lounge area to keep an eye on the status of those still on missions. As I went, I passed one of my friends (who in real life did used to work at Space Center Houston, next door to his father at NASA's Johnson Space Center!).

One dream I will never forget I had in my teens. I was in the space shuttle on the perilous re-entry into earth's atmosphere. I can still remember the vivid orange glow outside the cockpit windows...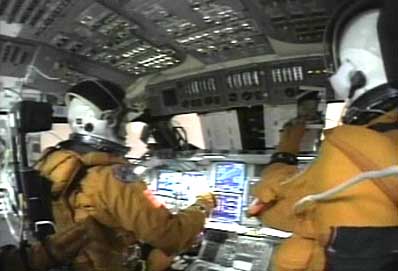 Sadly, this image was captured during re-entry seconds before Columbia broke up over Texas in 2003. Crew likened the glow to a "blast furnace".
(Courtesy of NASA/Spaceflightnow.com)