...In Belgravia
It's nice to drive through, walk through, pop in and out of...but working there felt uncomfortable. Like Conrad's "whited sepulchres" in
The Heart of Darkness
, London's land of embassies is not conducive to residents. And yet, people who are not affiliated with an embassy insist on living there. Today I worked for a solicitor in a big house off Belgrave Square where she lives with her husband, and both work from home. There were attendance notes dealing with the acquisition of a holiday villa in Barbados (they've just spent 3 months there!), with related fees for golf membership, grounds maintenance, seasonal rental, housekeeping, etc. I also typed out the villa inventory.
And just when I started wondering how long they had lived in the house, she asked me to type up a letter to the Grosvenor Estates (holders of the land on which Belgravia sits) about some dispute with the required colouring of the building and joinery. They bought it in 1997 in a state of disrepair, which apparently was the case with much of the non-diplomatic property in that amazing neighbourhood. Imagine, the people living there now are sitting on fortunes.
Still, I thought they had lived there for decades because of the moth-eaten mish-mash, down to the worn corded tassel in the basement loo, the mismatched threadbare antique chairs, the old red pile carpets so thick I tottered on my heels.
**********
Speaking of heels, I was told to dress smartly this morning, so I did. Black heels, black tights, black skirt with wraparound chain belt, and cotton paisley blouse. I don't usually wear heels with skirts for work, preferring flatter heels, though I do attempt them with trousers for some reason. Anyway, it got me groped on my way out of the Tube station this morning. Was passed by a black guy who seemed to be jogging, and before I knew it my rear end had been grasped. I was too shocked to exclaim because nothing like that has ever happened before, not even in Italy. What is the point of it???
**********
So, what did I see today? When I went out for lunch I walked through the gigantic Belgrave Square, where behind nearly every door there sits an embassy, and the only colour against the backdrop of cream and white are the many flags above the porticos. Also, it is the only time I have ever seen a Neoclassical grocery store. I went in there for my very very yummy sandwich: malted grain bread filled with mashed onion bhaji, cucumber, fresh red onion, mango chutney, mint dressing, and fresh coriander leaf. MmmmMMMmmMMmmMMmm, do try it sometime if you live here.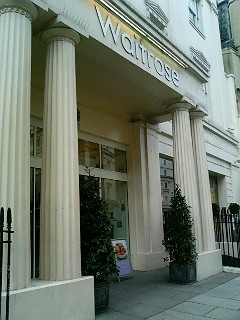 Waitrose at Belgrave Square
When I was leaving, I saw a black Mercedes pull up in front. The driver got up and ran round to let out a typical casually westernised Mideastern lady, you know, with the sunglasses in her hair, tight jeans and pointy snakeskin shoes, and as she strode into the store he literally trotted behind her, leaving the car right...where he...left it... I nearly laughed out loud at the scene. I am sure she didn't carry her own basket, oh no. I imagine she is the wife of one of the ambassadors lurking in the neighbourhood and lifts a finger for nothing.
Behind that Merc was another, and then behind that was a gorgeous gunmetal grey Rolls Royce Silver Cloud, purring as it awaited an opportunity to ooze into the stream of traffic.
The 40-50 year old classic Rolls Royce Silver Cloud
I walked back to the solicitor's house, around the square rather than through it, as this is one of the London gardens reserved only for keyholding residents. No way through that wrought iron fence for me, not like at St James's Square...
Homage to Leonardo in Belgrave Square garden.
She let me sit in the garden. Let me describe this typical London space. It is a patio actually (which is probably why residents need a garden in the square). There are trellisses against the fences, overflowing with all manner of creeping vine and vegetation. There is a deck table and chairs, an outdoor heater like the ones on restaurant terraces, a koi pond, and at the very end the impression of a nymphaeum with a classical statue standing before three mirrored arches. Looking back towards the house with its doors and windows was a black painted iron staircase spiraling down from the first floor, and a juliet balcony on the third (or vice versa). All this in an area about 12 ft by 24 ft, and that's one of the larger London patios!
I prefer a garden ANYDAY. Although quite pretty, this entire house and garden felt like a gilded cage. I think I have been living in the garden suburb of St John's Wood for too long...! And I have never lived without a garden before.
**********
Another reason I dressed smartly is because I was on a standby list for entry to the famed Chinawhite club, but didn't get the call, so after work I took a couple of stops west to Knightsbridge and went shopping at Harvey Nichols. The Food Hall carries an astounding "kick yo' ass hot" snack mix from Arizona. Habanero pepper, say no more. I love it, and have been meaning to go back for more.
I also needed to get my cousin (the charity director) a birthday gift. As she has everything
and
is quite fussy...I didn't know what to do. I settled on a lead-free pewter jam spoon that hooks onto the ledge of the jar. It very organic and not like anything I have seen recently, but I do think the Baroque metalworkers would appreciate it.
(I think I got her the shell one...)



The gift wrapping was complimentary, and I had a choice of occasional paper or classic silver and white Harvey Nicks with a silver bow. I thought that would complement the spoon nicely, so I chose that. I also had her wrap the book (signed by the authors!) I bought in the Food Hall for [someone I have just realised reads this blog]. I will send that for her [special occasion].
Right, you will hear from me after the weekend. I have a dinner on Sunday and day one at the A.C. on Monday...catch you then!