I reluctantly left my cousin and my goddaughter in Canada whilst looking forward to my upcoming adventures in New York City.
My cousin R picked me up at the airport in his big shiny Lexus and we had lunch at his apartment. He's a good cook though he wouldn't admit to it, and he likes to offer up selections of sliced fruit from his ever-bounteous supply.
He had called me the day before, asking what tea and cookies I preferred, and if there was anything I didn't like. As you know, I like black tea, but I wasn't sure which cookies to ask for, so I figured I would pick some up myself on a jaunt round the neighbourhood. Being the host he is, though, R decided to buy me a box of Jules Destrooper Almond Thins. I've always wanted to try those, and they were delicious - I like almond in baking, but he didn't know that. R had excellent taste in choosing my cookies throughout my stay!
Now, he has lived in the Bronx since first moving to NYC in 1990. When I first visited New York, we stayed with his sister and her family upstate, about 20 minutes from the city. We made a brief overnight visit to R's place and he took us to the top of the World Trade Center at night. That was the extent of my experience with the city. At the time, we were living in Texas, the friendship state, and I didn't like New York or its environs. I thought it was dirty, crowded, and the people aggressive.
Of course, my five years in London have hardened and disillusioned me a great deal. From this perspective, I now think New York City is better than London. It is cleaner, the pace is slower, the people are friendly and interact with each other. The aggression I expected manifests itself more in London. All my preconceptions are shattered. I am newly impressed.
In the evening, when it cooled down a bit, R took me downtown to Union Square, about an hour on the 6 line. There is a Whole Foods supermarket there, a store I liked back in Texas with lots of fine natural and organic products. Picked up all sorts of yummy stuff, then made a short foray into Union Square proper. I was pleased to see people hanging out on the steps chatting, laughing, playing music. It seemed so relaxed and free.
The next day, I began my own adventures. Exiting the building I passed the mailman going in and he said "Good morning." Shocked at being spoken to by a complete stranger, I replied surprisedly, "Good morning." I crossed the road with a smile on my face. I went to the bank to withdraw some money. The man waiting in the lobby waiting for the two customers to finish at the ATMs saw me approach, opened the door for me, and even offered to let me go in front of him. Again surprised at the courtesy, I declined and said he had been waiting before me. But when an old lady with a walking stick came in after me, I let her go ahead of me. Again, I was feeling good with all this community spirit. My first experience with passing it forward in years.
This put me into a good mood to go into town, and all this had only been in the Bronx! Turns out its reputation is undeserved, but also my cousin lives in Parkchester which is a pretty good neighbourhood with a special history. More on that in a later post.
A friend, Vera, from my university dorms in Houston was in town visiting friends, so she and I met up on the steps of the Met.
street scene at the met.mov
We picked up lunch at a rather lovely Italian cafe on Madison Avenue, and had a picnic in Central Park while we caught up with each other. The weather was absolutely summery. Central Park is like a whole county. I think of it as the lungs of New York City.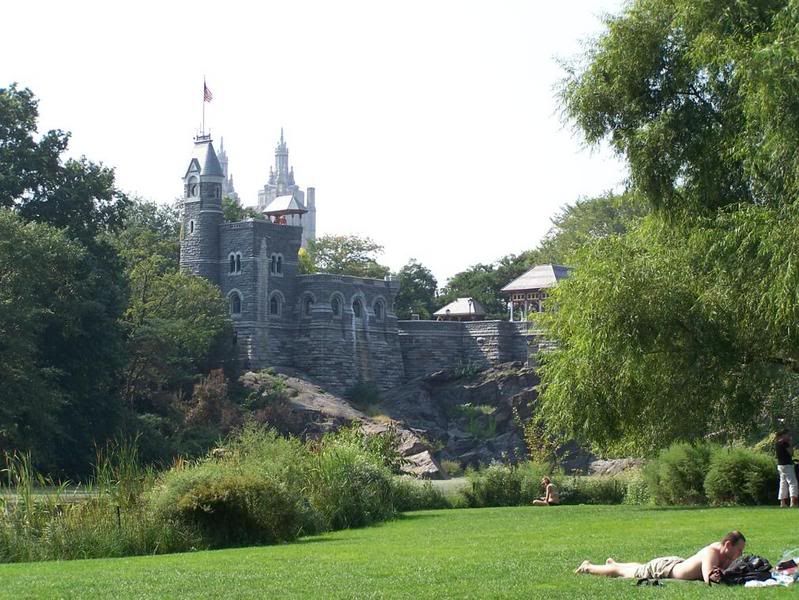 After lunch, Vera and I went back to the Met where we visited three exhibitions, all of which are free with your entry donation: The Age of Rembrandt, Impressed by Light: British Photographs from Paper Negatives, and Depth of Field: Modern Photography at the Metropolitan. We had a bit of time left before closing so we flew through the European paintings, Egyptian gallery which housed an entire temple on a water feature, a Spanish courtyard, and the American Wing, which featured whole rooms from different eras. There was so much more I wanted to see, but I had to get across town to meet my friend Denise for dinner. It was a 15 minute walk through Central Park.
Vera joined us for dinner at Arte Cafe, a local Italian in the West 70s. I enjoyed some veal scallopine in lemon and caper sauce. Very yummy. We also had salad and sorbet, as it was a pre-theatre dinner menu. But I had to have a cocktail! I think it was lime and mint and vodka.
We took the subway to Times Square which really is an awesome sight at night. It's like Piccadilly Circus x 10. Vera parted from us at the theatre and then we went in to take our seats.
Curtains
with David Hyde Pierce (Niles from
Frasier
) was a delight, in the style of the old musicals with toe-tapping song and dance and comedic dialogue. One number had me smiling from ear to ear in naive delight. That is what you have to do, just shed cynicism - I read a negative review of it, but of course I disagree. So what if I kept thinking, "It's Niles on Broadway!" So what if the jokes were, well, naive. We moderns are too worldly anyway ;)
And at intermission, I saw Liza Minnelli going up the aisle on the way to the bathrooms. Yep, the most famous celeb I've ever spotted but on my least favourites list. Blimey, she be ug-a-lee.
Don't worry, Photobucket displays the photos too large. The better sizes are from Flickr. I wish I could put all 100 on there...May have to make do with Webshots, but the quality on Flickr is still better....Arrrrrggghhh!
Now. Get ready for the next bite.