Hi peoples!
Thanks for coming by to say hello, even though I haven't posted in a few days.
So let's catch you up, then...
Wednesday, can't remember what I did.
Thursday, registered at the last agency. No more. These last three promise to keep me busy, much unlike the first shiftless few.
Friday, I did another stint at the National Gallery, sending out catalogues to all the museums requesting them across Europe and the USA. It was hard work, but fun trying to unravel the extremely fuzzy-headed instructions from letters written in French and German. The Germans were more disorganised than the French!
All the interesting things I had saved up to tell you have now flown from my head, but I did take notes on some things I've heard. As you know, it's been ages since I wrote one of my hugely educational pieces, but sometimes a tidbit here or there is more fun!
This weekend I am off to YET ANOTHER engagement party outside of London - for Sunshine and Gareth, who were at Nags and Diva's party last week - so I am doing laundry and throwing a few things into an overnight bag.
I


Buzz Aldrin was at Ascot
...in Car Park Number One, no less. It is the greatest honour to be nominated for a parking space there. It's where they get to have their picnics. I know, I know - a parking lot...! Lords, Ladies, and the most exalted beings, as well as a few others, vie for places. For instance, one man - I know not what he did - but he's been coming to Ascot for 33 years and patiently awaited his nomination.
There is also the restaurant, which costs 1300 GBP per head. That's about $2600.
Yesterday was Ladies' Day at Ascot, where the focus is on the hats. Like peacocks strutting their stuff. And the men, even in their top hats and tails, fade into the background.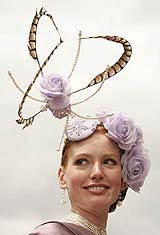 A fantastic creation for Ladies' Day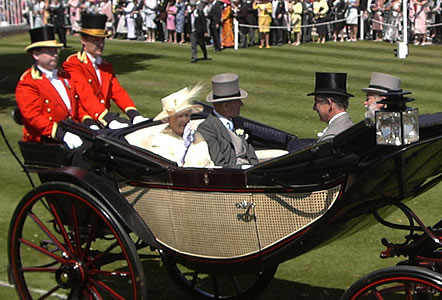 The Royal Carriage
It's all about the horses...really!
Potatoes changed the course of history
. After the wreck of the Spanish Armada, they were found washed up on the Irish coast, and like nothing before they thrived in the cool climate. (I often wonder who had the bright idea of sticking them in the ground...)
You may remember that the Spanish explorers brought back potatoes from the New World, as well as tomatoes, corn/maize, chilies, tea, coffee, chocolate, tobacco...so many things we take for granted, so many staples, and so many things that give us guilt and pleasure...
III


Gothic cathedrals resemble rocky crags.
This is why they attract bats, pigeons, kestrels, and stone martins, thereby making them unwitting city dwellers. As such, they must survive.
Stone martins control the rat populations in churches and cathedrals, but they also love to camp out in car engines, comforted by the warmth and small spaces. It nearly goes without saying that small furry mammals with teeth chew things as often as babies put junk in their mouths.
One night in Berlin, one stone martin damaged 100 cars. Looks like he didn't get much sleep.
A bit of a complaint...

On BBC Breakfast, I saw an interview with a temp who got in trouble for her tattoos. All over her neck, arms, and back. She was ordered to cover up.
This brought to mind the girl I saw the day before at the Customer Services desk in Selfridges (of all places). Face to face with customers and tourists in a very busy area at a prestigious department store, she had dyed hair and numerous facial piercings, including two on her bottom lip! Help me to understand how she got that job...?
Back to the top hats and tails of paragraph I, I watched the drama on the life of Beau Brummel, inventor of the suit. In the early 19th century, during the early Regency period, men were still wearing makeup, powdered wigs, pretty floral embroidered waistcoats, breeches, tights, and slippers. They were called Fops and they were lazy, sneering, even somewhat effeminate.
"Beau" Brummel was the son of the secretary to a Lord, but he became close friends with the Prince Regent and this is how he became the arbiter of fashion, and the prince's sartorial advisor.
Brummel wore riding trousers, boots, plain sobre colours, dark coats and top hats, and carried a silver-headed stick. Just picture Mr Darcy.
Also, in an age when no one bathed and used French perfume to cover the whiff, Beau and his followers (dandies) bathed regularly with soap. It was scandalous!
At the height of his fame, crowds gathered at his front door to be allowed admission to his dressing. That's right, they got to see him dress. It was an art. He went through reams of linen each morning to produce the perfectly tied necktie.
He was also quite a sharp wit whose words still survive. The drama showed the seamier side of his continual debt, his "affair" with Lord Byron and consequent break with the Prince Regent, and the beginnings of his insanity.
It was because he had been cut by the prince that his troubles began. Most gentlemen of the age were in debt and habitual gamblers, but just being a gentleman ensured almost continual credit at the jewellers', tailor's, tobacconists, butchers' , etc. To refuse a gambling table was a social no-no, so they were all pressured into it for appearances' sake.
Beau's creditor was the Prince, so when he was "excommunicated" from the protective circles of society, the creditors descended like vultures and his faithful manservant had to leave. The footnote at the end stated that he fled to Paris and died some years later in penury in an insane asylum.
**********
That's it for now. See you again at the end of the weekend, and enjoy the weather.